On the night of 21st September, we were delighted to hear that, a little over a year since we began our relationship with Bobby's Foods, the company had picked up the 'Product Launch of the Year' award at the 2021 Retail Industry Awards.
Bobby's was named winner of the Grocery category in recognition of the success of its retail launch of our Classic Mini Ring Doughnuts, available in store under our special co-branding: "7 Mini Classics."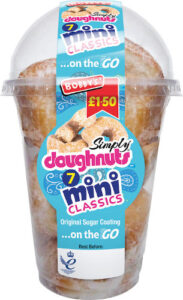 The award was accepted by Bobby's Foods National Sales Manager, John Lucas. Also attending were company Director Dave Suckling and Commercial Director Jon Platts.
We were thrilled by the news and we congratulate the Bobby's team for a well-deserved win. We're now looking forward to many years of continued partnership.
Many thanks to all those who voted.